LED DOG COLLAR OVERVIEW
The LED dog collar is good stuff that helps dog owners see their four-legged friends after sunset clearly. You do not need to worry that drivers fail to see your pets when you take them out for a walk or play fetch games at night. Pets can be protected well when wearing this kind of light-up dog collar in the evening.
This Cool collar is lightweight, size-adjustable, durable, and very easy to use. It has 3 flash modes: 1 click for Quick Flash, 2 clicks for slow Flash, and 3 clicks for steady light.
And two versions are available: USB Rechargeable and Button Battery version. For the button battery version, you need to replace the battery (CR2032 Button battery x 2 pcs) when it is powered off.

For the USB Rechargeable version, you do not need to replace the batteries. This glow-in-the-dark dog collar is with a rechargeable battery which provides five hours of illumination for every one-hour charge. And it has several different colors and sizes and surely you will find one fit for your four-legged friends perfectly! Now just come and choose one for your lovely pet!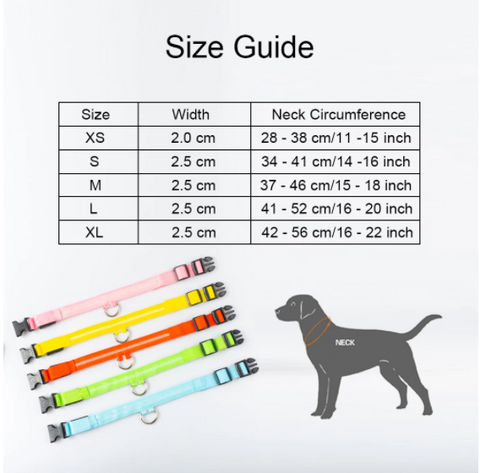 Note: Please measure your dog's neck before purchasing.
Measure your dog around the top of the neck directly behind the ears. We recommend using a cloth measuring tape.